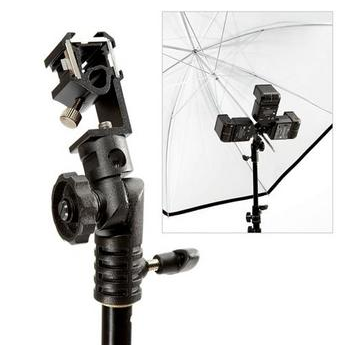 Wireless off-camera flash is terrific for location portraits and shooting on the go. But sometimes a single flash just doesn't have enough output. A simple solution is the Lastolite Triflash Bracket for $65. The bracket works with your existing light stands and umbrellas. But it allows you to mount up to three flashes on a single stand. There's the pop you're looking for.
I also read about a new version of this device called the Lastolite TriFlash Sync. It "features a built in sync system allowing the photographer to fire up to three flash guns from one triggering device. Featuring a built-in slave cell, the Lastolite TriFlash Sync can be adjusted to allow for none, 1, 2 or 3 pre flashes if required." But I haven't been able to find a dealer for this device yet. Will keep you posted if I do.
If you like this kind of stuff, be sure to check out my Off Camera Flash title on Lynda.com. I show you all sorts of helpful lighting techniques that are especially good for portraits.
More Off Camera Flash Tutorials
Off Camera Flash - Basic Techniques for Pro Results
Light Modifiers for Off Camera Flash
Off Camera Flash - The Single Light Portrait
"More Off Camera Flash" - Digital Photography Podcast 233
---