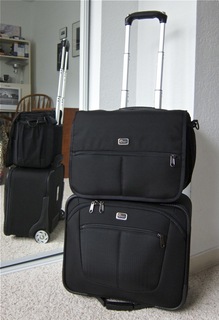 The recently announced Lowepro Pro Roller Attache x50 is an inventive 2-bags-in-one solution that I'm testing for my assignment to PhotoPlus Expo in New York City. I think this is a good trip for the bag because:
I'll be on the road for 5 days. Not too long, but certainly not an overnighter.
I'm on assignment. I have to take my pro gear and a computer.
I have to make a flight connection, so I want to bring my luggage onboard with me.
I want to have everything I need, but travel comfortably.
Once I arrive, I want to work comfortably.
To pack for the trip, I remove the shoulder bag from inside the roller and load it up with my Canon 5D Mark II, 24-105 mm zoom, 16-35 mm zoom, 50mm f.1.8, LED fill light, Canon 270 EX fill flash, mics, cards, batteries, amd filters. A 13" MacBook goes in the front computer sleeve, and the iPad goes in the back pocket. There's a trolly sleeve that allows me to slide the bag over the handle of the roller.
In the roller itself, I pack my Giottos Vitruvian tripod
with ball head, a couple changes of clothes, toiletries, battery chargers, and misc.
Once I arrive to the hotel, I'll unpack the roller, put the shoulder bag inside the drop-drawer tray, and use the wheels while I'm working on the job. There's a hideaway tripod mount in the extended handle of the bag that I can use as a lightstand while I'm working. When it's time to fly home, I go back to the original configuration.
The Pro Roller Attache x50 is well designed and high quality. It looks sharp lets me carry-on all of my luggage, and has the space and features I need to get the job done. It should be available in retail channels by the end of the year.
If you want to see a movie on how to use the device, here's one that I shot at photokina with the Canon 5D Mark II.
---