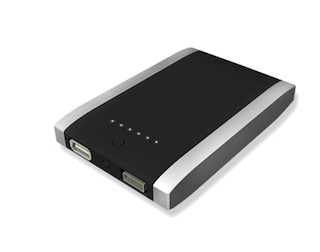 I've talked a lot about hitting the road with only an iPad and some of the challenges involved with lightweight mobile computing. For example, how can photographers increase storage for their hi-rez images? Another concern in the field is replenishing the iPad's hefty battery after hours of use.
Mophie -- the makers of the Juice Pack Reserve
-- have come up with a new device: the juice pack power station. The $99 device has enough capacity (3600 mAh) to charge your iPad, iPhone and iPod. Its 2.1 amps of high-density, high-output charging has the horsepower required to replenish that thirsty iPad battery. It also has many helpful features such as LED status lights and pass though charging (you can charge the powerstation and your device at the same time) while remaining quite compact.
I think backpackers and photographers working in the field for extended periods might find the powerstation a real blessing.
---