I was one of many who was disappointed to hear that some features from the new Apple TV
would not necessarily be ported to the previous version. Most notably for me was Netflix streaming.
So if I do upgrade to the new $99 version, what to do with my current model? I decided to make it the media server that I always wanted. Why not? It has a 160 GB hard drive, is WiFi network saavy, and has a remote control. Once I set it up, I don't even need the HDTV interface anymore because I can control its operations from my iPad or iPhone via the Remote app.
So I set about copying 2,430 songs from my iTunes library to the old Apple TV. This was easily handled in iTunes, which is synced to the Apple TV.
Then I downloaded the latest version of Remote for the iPad. It provides the graphical interface I need for controlling the Apple TV, including controlling the speakers on my AirPort network throughout the studio.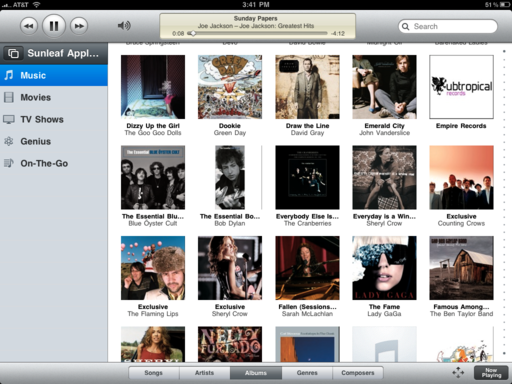 Remote app on the iPad controlling my Apple TV "media server". Click on image for larger view.
If I need to update the content on the Apple TV, I can just move songs from my iTunes library. It's all handled easily and without wires. And like I said, once everything is set up, you don't even have to turn on the HDTV. Apple TV will stream music throughout your network using the iPhone or iPad as the controller.
---