Once you figure out that it feels so crowded at PhotoPlus Expo 2010 because they made the aisles more narrow, you start looking for direct routes to your destination. Along the way, you're bound to run into someone you know. It's the ultimate photographer "meet and greet" in the US.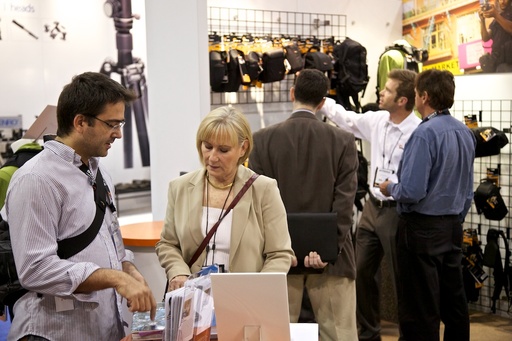 Inside the Lowepro booth at PhotoPlus Expo 2010. Click on image to enlarge.
Incredibly, I can attend one show a year and catch up with everyone I had neglected over the past 12 months. Thanks to Facebook and other networking tools, we don't have to waste as much time reviewing our personal histories. Just get to the fun stuff.
I'm happy to have the Lowepro booth as my show floor office. It gives me a place to stand. Seriously, it's busy here. The floor itself isn't as big as past years, but we still have many major hitters. And the classes are top notch as always.
If you're around today, I hope you come by the Lowepro booth to say hello. And if I'm not there, don't worry. We'll probably run into each other anyway.
---