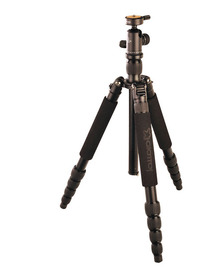 The Giottos VGR9255 is an aluminum tripod/monopod with quick release ball head that fits easily on the outside of your photo backpack. I recently spend a week on the road with one strapped to my Lowepro Pro Trekker 300 AW
as I worked in Germany. This Giottos only weights 3 lb (1.36 kg), yet extends to 62.6" (159cm). And when it's time to fold it up to pack in the suitcase, it only takes up 15.6" of space thanks to its ingenious "reverse technology" legs, that when collapsed, fold 180 degrees and surround the tripod center column and head. This also means that you have great flexibility in positioning the legs at any angle you may need while shooting.
The dual-control ball head is high quality. The movement is smooth, and when you lock it down, it's solid. The Giottos also includes a quick-release mount for your camera. All of the twist-knob adjusters on the legs and center column are equally silky and secure. This is a tripod that inspires confidence just by working its controls.
You can convert the Giottos to a monopod by unscrewing one of the legs and attaching it to the center column. Even though I think this is a terrific option, I didn't use it as much as planned because the tripod itself is so nimble, even in tight quarters. I also like the retractable hook at the bottom of the center column that can be used for hanging any type of weight to further secure the legs.
For $245, you get the tripod, ball head, deluxe case, and carry strap. Considering the quality of the ball head alone, that's a good value.
You won't hear me say this too often about sticks, but the Giottos VGR9255 tripod is actually fun to use. And it won't break your back or your bank account.
---