In preparation for this weekend's TDS Fall Photography Workshop, I was hanging a few new SizzlPix on the classroom wall. I want workshop attendees to be able to experience these images firsthand.
As I was looking at the shots, I thought what perfect gifts they would make this coming holiday season. I'm mentioning this now in case you think so too, so you'll have plenty of time to get your shots together.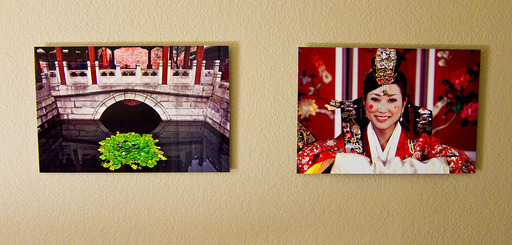 Imagine the double-delight when the recipient opens the box. First, they will see a handpicked image that you have been thoughtful enough to print for them. Then, they notice how the picture "jumps" out of the box. (If you have a SizzlPix, you know what I mean.
You can also share the following points to further impress your friend:
Waterproof photo prints? (dye-infused aluminum!)
Environmentally friendly? (no paper, wood, nor glass - no noxious fumes while manufacturing!)
Archival? (rated for a 50-year life; stain proof and scratch resistant!)
Economical? (The same or less cost than pro-quality matted, framed under glass!)
OK, maybe not the last point. We want them to think that you paid a lot for their gift. Anyway, this is something that occurred to me, and I wanted to share with you... before I forgot all together ;)
And if you didn't know this already... SizzlPix is a sponsor of The Digital Story. So we have that to thank them for too!
---