The updated Lowepro S&F Series will be officially launched in the US at PhotoPlus Expo on October 28. There are many innovative components in this system, but the one that I think will thrill just about every shooter is the new Lens Exchange Case 200 AW.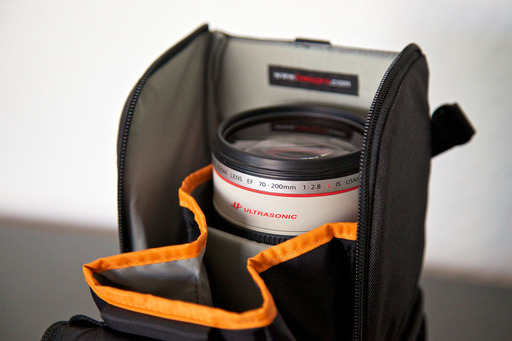 The Lowepro S&F Lens Exchange Case 200 AW. Click on image for larger version. Photo by Derrick Story.
Not only does the case fit securely on the belt of the S&F Series, you can use it on a regular belt too. It has an All Weather cover to protect your glass in the harshest of environments. But the real treat is that it also serves as a second pair of hands. The case actually has two compartments that compress into one case. When you take the lens off your camera, simply put it in the open compartment. Then take the lens you want to mount out of the other compartment. Pull the case closed with one hand, and you're shooting before you know it. Here's a video demo of how that works.
The Lowepro S&F Lens Exchange Case 200 AW should be available in November 2010. If you really want to "wow" your favorite photographer with a great gift during the holidays, this affordable item is the ticket.
---