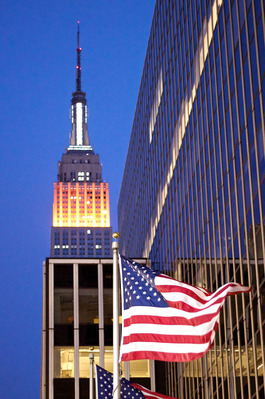 During my last trip to New York City, I carried a Canon Rebel T1i
with a Canon EF 50mm f/1.8 lens
when I went out at night to eat. I love the challenge of only having one prime lens with me.
My favorite time to shoot is at twilight. Color in the sky makes all the difference. Also having a fast lens and not being afraid to push the ISO provides lots of creative options. This shot, for example, was recorded wide open with the ISO set to 1600. I haven't done any noise reduction at all.
If you also like this stuff, consider entering this month's Photo Assignment, "High ISO." Entries must be shot at ISO 800 or higher.
---
"American Flag in New York City" -- Recorded with a Canon T1i and a 50mm lens at f/1.8. Thanks to ISO 1600, I was able to expose at 1/30th to give me a good rendering of the flag. Photo by Derrick Story. Click on image for larger version.
---