A feature on the new Canon 60D DSLR
that intrigued me was the in-camera Raw processing. The thinking is that you can shoot Raw, then if you need a Jpeg version of any of those images, you can process the Raw file in the camera. No computer required. You'll get a new Jpeg according to your settings. I decided to put this feature to the test.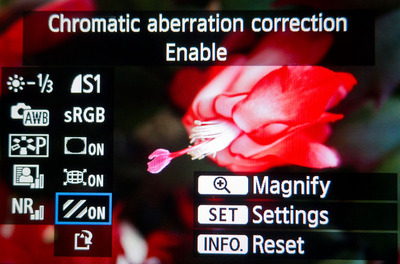 In-camera Raw processing menu for the Canon 60D. Click on image for larger version.
I selected this flower image from a Christmas Cactus. I captured it originally in Raw with the Canon 60D. In playback mode, I pressed the Menu button and navigated to Raw Image Processing. The next menu, shown above, provided me with 10 settings to customize the processing of the file. Included were: Brightness, White Balance, Picture Style, Auto Lighting Optimizer, Noise Reduction, Quality and Resolution, Color Space, Peripheral Illumination Correction, Distortion Correction, and Chromatic Aberration Correction. That's a fairly nice toolbox to work with.
I played with the settings, including sampling the file down to S1 (2592x1728, 4.5 MBs), then processed the photo. Once it was finished, the 60D informed me of the file number of the processed image and the folder in the camera where it resided. The un-retouched processed picture is below.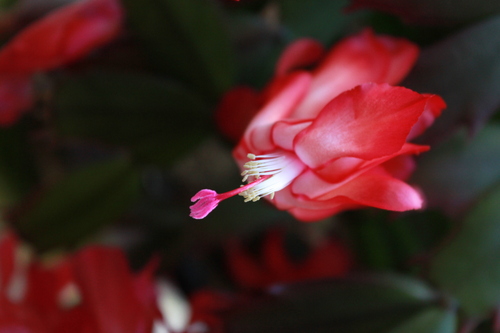 Un-retouched Jpeg processed in-camera from a Raw file with a Canon 60D. Click on image for full sized version.
I'll let you judge for yourself, but I find this feature very convenient. The only thing that would make it better is a cropping tool. For many shooters, in-camera processing could eliminate the need to record in Raw+Jpeg. Just shoot Raw, and double the number of frames you can record in burst mode, then process the images you need to share immediately in camera.You can sample down as far as 720x480. That means with an Eye-Fi SD Card
you could upload a properly resized image directly from the 60D to Flickr, even if it began as a Raw file.
Seems like a handy feature to me.
---