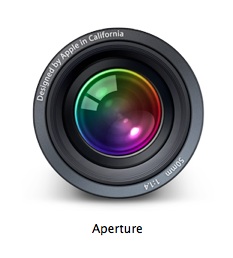 After just a day of testing, there seems to be many benefits to the Mac OS X 10.6.5 update, including Raw file support for 10 new cameras:
Canon EOS 60D
Canon PowerShot S95
Hasselblad H4D-40
Nikon D3100
Panasonic Lumix DMC-LX5
Sony DSLR-A290
Sony DSLR-A560
Sony DSLR-A580
Sony SLT-A33
Sony SLT-A55
You can see the complete list of supported cameras here.
Improved Export Speed in Aperture 3.1
But there's another bonus performance update that you might not have found yet. Thanks to Core Image enhancement under the hood, exporting images in Aperture 3.1 has improved also. This is welcome relief, indeed.
I tested this by editing sample "referenced" Raw files from a Canon S90 and 5D Mark II on a MacBook Pro 17" 2.5 GHz with 4 GBs Ram. I worked on one set of images with Mac OS X 10.6.4, then performed the same test on similar images (captured in burst mode) in Mac OS X 10.6.5. I applied these adjustments to all images before exporting them as full size Jpegs: Color, Levels, Crop, Vibrancy, Shadows, Recovery, Definition, and Edge Sharpen. I was very careful to make sure that all processing had completed before I initiated export. There were no other apps running during this test.
Mac OS X 10.6.4 with Aperture 3.1
Canon S90 .CR2 export to Jpeg --> 13.6 seconds
Canon 5D Mark II .CR2 export to Jpeg --> 30.2 seconds
Mac OS X 10.6.5 with Aperture 3.1
Canon S90 .CR2 export to Jpeg --> 7.3 seconds
Canon 5D Mark II .CR2 export to Jpeg --> 11.4 seconds
Since I had a number of burst mode shots in each series, I performed the test on four different images with each version of the operating system, then averaged the numbers.
So, if you run Aperture, make sure you've updated the app to 3.1 and OS X to 10.5.6. You'll get new Raw profiles plus a nice little performance boost too.
More Aperture Tips and Techniques
To learn more about Aperture 3, check out my Aperture 3 Essential Training on Lynda.com. Also, take a look at our Aperture 3 Focus Section. Tons of free content about how to get the most out of Aperture.
---