You can have all of your photos and movies managed by one database, yet still use the necessary tools to get the job done. Many of my current assignments require that I deliver both video and images. A workflow that will keep you from going crazy it to upload everything into Aperture 3.
For simple video pieces, you can edit video in Aperture. If you need more tools, then iMovie '11 can tap into your Aperture library for content, create and output movies, without duplicating the source material. This gives you one set of master footage, but multiple production options.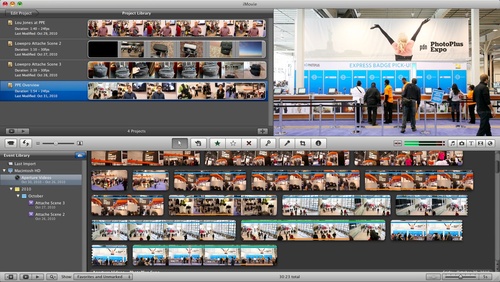 iMovie '11 using Aperture 3 to manage assets. Click on image for larger version.
The process is fairly simple.
Upload everything into Aperture.
Organize as you normally would.
Launch iMovie and let it generate thumbnails for all of your Aperture video. This could take a while if you have a lot of content.
Edit and produce your video in iMovie. The source material in Aperture will be read, but not altered.
iMovie will create a couple megabytes of material and store it in the "iMovie Projects" folder. But that's about it. And even if you need to move your Aperture library to another hard drive, you can reconnect the content in iMovie (iMovie Help explains how).
It a fairly efficient approach that will help you manage all of your source material. You can also use iPhoto instead of Aperture in this scenario.
More Aperture Tips and Techniques
To learn more about Aperture 3, check out my Aperture 3 Essential Training on Lynda.com. Also, take a look at our Aperture 3 Learning Center. Tons of free content about how to get the most out of Aperture.
If you want to see an example of the Aperture/iMovie connection, here's a video that I produced on assignment for Lowepro at PhotoPlus Expo 2010. I shot the footage with a Canon 5D Mark II, uploaded to Aperture, edited in iMovie, and produced before I returned home. You can work very fast using this set-up.
---