I've heard good things about Yojimbo for quite some time. But when Bare Bones Software released the companion Yojimbo for the iPad app, I decided that this was something I wanted to investigate for my "staying organized" workflow.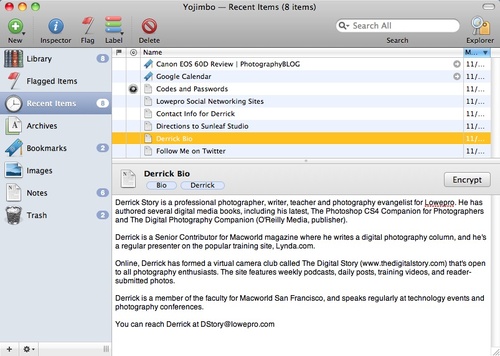 The Yojimbo interface on the Mac is clean and easy to use. Click for larger version.
Basically it works like this. While you're working on your Mac, you can copy bits of information that you want to hang on to and put it in Yojimbo. This can be all sorts of stuff: bookmarks, notes, flight numbers, hotel reservations, directions, etc. Once your data is in Yojimbo, you can tag, label, or add a comment about it. Finding the info is a breeze via search or browsing, even if you don't tag.
Here's where it gets even better for the nimble photographer. If you get the iPad app too, it syncs with your desktop version. Both devices have to be on the same network, and boom, you have your complete cache of Yojimbo data right there on the iPad. And for sensitive data, you can encrypt it on the Mac and the iPad honors that encryption.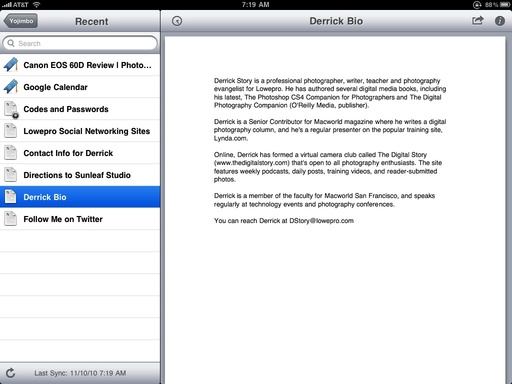 You can sync your Mac data with the iPad via Yojimbo for the iPad. Click for larger version.
This is particularly helpful when traveling. It's much easier to pull out the iPad to check hotel information than to fire-up the old laptop. I tested this duo with a MacBook Air and an iPad, and it was a joy to use.
One thing to keep in mind, however, is that this is a one-way street. The data management is always on the Mac. The iPad is a display-only version of your Yojimbo data. You do have the option to move the data from the iPad via email, but that's about it.
If you're challenged by bits of information that you want better organized, take a look at Yojimbo for the Mac ($39). And if you have an iPad ($9.99), they make a good team.
---