While shooting in a high school gym this weekend, I noticed an odd color shift appearing in some of my images recorded in burst mode with the Canon 60D. Even though the gym lighting was consistent, this image inconsistency happened on a number of occasions.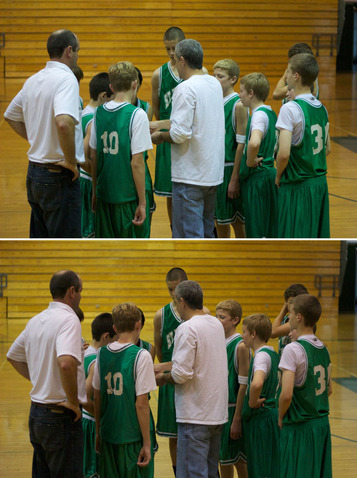 ---
Side-by-side frames recorded in burst mode on a Canon 60D. Click on image for larger version.
---
Here's how I had the camera configured:
Aperture priority mode set to f/1.8
50mm Canon lens
ISO 3200
Custom White Balance
1/1600 shutter speed
Evaluative metering
Raw only capture
The two frames shown here were sequentially recorded in high speed burst mode. I opened up the Raw files in Canon Digital Photo Professional, Aperture 3, Photoshop CS5, and Lightroom 3. The images had the same color differences in each application.
What's even stranger, it looks as though the camera optimized the shadows and highlights in the top image, but not the other. I scoured the EXIF data in DPP, and found no differences between the two shots.
I don't have an explanation for this, but wanted to pass it along to Canon shooters.
---