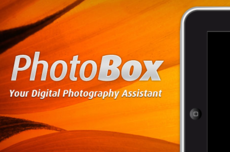 The current release of PhotoBox by Boinx Software (V 1.1) brings a truly useful image review tool to photographers working in the field. Unlike the earlier version that had to copy lower resolution images to the app, you can now access the full resolution files, even if they're Raws. I recently tested it for an event shoot at a professional basketball game with an Olympus PEN E-PL1
in Raw mode. When shooting sports, one of the first things I look for is sharpness. With PhotoBox, you can upload a handful of images, browse them in the "lightbox" view, then zoom in to 1:1 for a close look at the detail. Being able to do this on location gives you confidence that your camera settings are on the mark.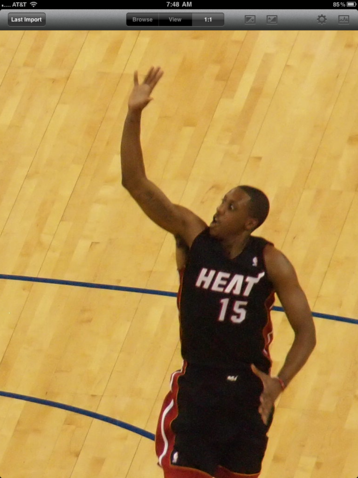 Image displayed at 1:1 on PhotoBox. It looked great on my camera's LCD, but I could tell in PhotoBox that it wasn't quite as sharp as I would like. Click on image for original view.
The application includes some other helpful tools, such as luminance and RGB histograms, highlight and shadow clipping overlays, pixel dimensions, and file size. You can set your own tolerance levels for the highlight and shadow clipping in the preferences (gear icon in upper right corner of the app).
Once back home, you can enjoy even a closer look at your work by connecting the iPad to a VGA-compatible display and using PhotoBox as the driver -- a nice touch if you need it.
Boinx has overcome many of the limitations of the earlier iPad iOS to create a useful tool for discriminating photographers working in the field. This latest version (1.1) is definitely worth a look. You can buy PhotoBox for $4.99 in the App Store.
Oh, and one final note. You might see lower customer ratings for PhotoBox in the App Store than you would expect for the version I've described here. The previous version (1.0) wasn't as smooth or useful as what I've recently tested. Just something to keep in mind.
---