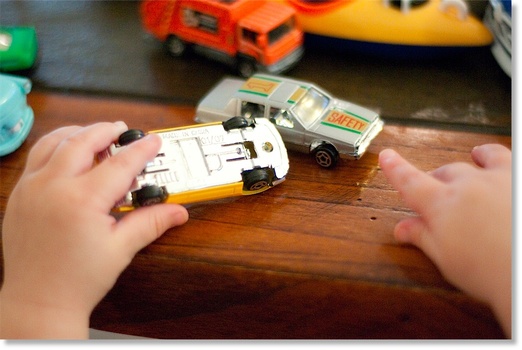 "I spend a lot of my time as an amateur photographer taking photos of my two grandboys," writes Michael Cortina. "They are my favorite subjects, and my wife uses the pics in her scrap-booking and brag-books."
"This an over the shoulder picture of my 11-month old Cristian. He is close to walking, so he spends a lot of time playing at the coffee table for stability."
"I snapped this shot with my Nikon D300s and a 50mm 1.8 lens. It was taken wide open at 1/200 in natural window light at ISO 3200."
"Tiny Hands" by Michael Cortina. Click on image for larger version.
This is our 207th Grab Shot! Wow. If you want to review the collection that began back in 2006, go to our Grab Shots page.
If you have a candid you'd like to share, take a look at our Submissions page, then send us your Grab Shot. We'll try to get it published for you on The Digital Story.
And you can view more images from our virtual camera club in the Member Photo Gallery.
---
The Digital Story Podcast App is the best way to stream or download weekly TDS podcast episodes. No more syncing your iPhone, iPod Touch, iPad, or even your Android phone just to get a podcast. And the best part is, The Digital Story Podcast App is your way to help support this show. Download it today!
---