There are a handful of applications that enable a connection from an iPad to your DSLR. But if you really want to control the camera remotely, take a look at onOne's DSLR Camera Remote HD for the iPad.
I've connected a Canon T1i, 60D, and 5D to my MacBook Air, and then used my iPad as command central. This includes working in Live View, video recording, and using the iPad as an Intervalometer to set both interval and number of shots for a session.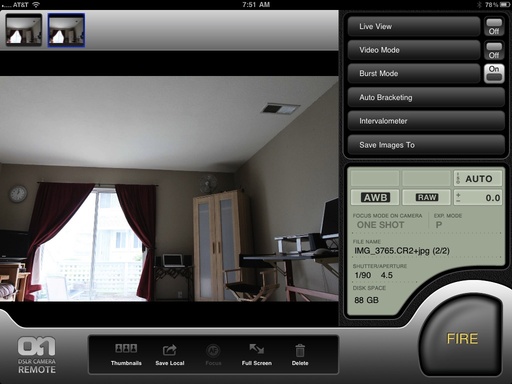 The set-up is painless. First, I downloaded the iPad app from the App Store ($49.99). Then I went to the onOne site to download the server for my MacBook.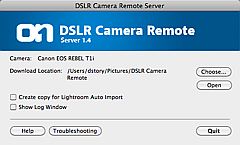 Connect the camera to the MacBook, turn it on, and fire up the server. Then launch the iPad app. It will see your computer on the WiFi network and list it for you. You tap the name of your computer in the list, and DSLR Camera Remote HD makes the connection. You now have control of your camera from the iPad
At this point, you can turn off and on Live View (for cameras that have it), take pictures, focus (via Live View), adjust parameters such as white balance and ISO, and even record video if your camera supports it. When all of the settings are to your liking, you can switch to full screen mode that gives you a bigger version on the image with the Fire button. You have the option of saving your photos to the computer only, or the computer and the camera.
DSLR Camera Remote HD is designed for Canon and Nikon cameras. The interface is well designed, functionality works great, and for Canon users in particular, it's worth the price for the Intervalometer alone.
---