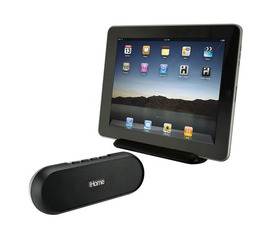 At this moment, I'm working in my hotel room listening to music streamed from an iPad to the new iHome iDM12 Portable Bluetooth Speaker System
that has terrific sound, including decent bass, yet only weights .35 pounds. I charged the unit before leaving home, so I don't have to mess with batteries. Just turn it on, connect to the iPad via Bluetooth, and play.
There are four buttons on top of the iDM12: Power, Volume Down, Volume Up, and a multifunctional button. Initially you use the MF button to pair the device with the iPad. After that, you can use it to play/pause music. This is handy because I have the iHome on my desk in the hotel, with the iPad across the room. I can actually control playback without having to touch the iPad.
If you like to watch movies or TV shows on your iPad, the iDM12 enhances the experience nicely. You can use the included stand to set up your iPad, then enjoy great sound via the iHome speakers. Very handy when two people are watching together. And when you're traveling, the stand folds up and attaches to the front of the unit.
If you want to use the iHome speakers with another device via stereo mini jack, use the dual-purpose USB cord that also has a male stereo jack for a regular MP3 device. I've also paired the device with my MacBook Air. Use the Bluetooth setup on the Air, then choose the iDM12 as the audio output device. Sounds great!
You can buy the iHome iDM12 directly from iHome for $69 with free shipping, or from Amazon for $64
with free shipping. The unit produces rich sound, hardly takes up any room, and frees you from wires when using with the iPad or MacBook. Definitely recommended for anyone who wants to enhance the audio output of their portable device.
---