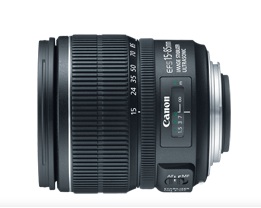 When buying a new APS-C DSLR, it's a good idea to get a kit lens with it. They're great for resale value and are usually quite decent for the price. But when it's time to upgrade your "everyday zoom," what are your best options?
For Canon 60D and 7D owners, I recommend the Canon EF-S 15-85mm f/3.5-5.6 IS USM zoom. Here are the key reasons why I favor this zoom over the other models in the EF-S line up.
Wide 24mm equivalent, yet zooms out to 135mm equivalent
USM makes for quiet, fast focusing
4 stops image stabilization
Very sharp at all focal lengths
Relatively compact for such a wide zoom range
You may have noticed that I didn't specify this lens for the Canon Rebel T2i or T3i. That's only because it feels a bit heavy on those camera bodies. I think the zoom has better balance on the 50D, 60D, and 7D models. It's not a particularly light lens, weighing in about 1.25 pounds (575 g). But is is relatively short at 3.4" (8.64 cm). It would certainly provide great images on a Rebel, just try it first to make sure it's comfortable to hold.
On the downside, it isn't a very fast zoom. Some of this is offset by the 4 stop image stabilizer. You do have f/3.5 at the widest setting, but as soon as you begin to zoom it works its way up to f/4, then f/5.6 at the tele end. I usually carry the Canon 85mm f/1.8 in my 60D kit, just in case I need a fast aperture at the short telephoto focal length.
I also noticed some vignetting at the wide and tele focal lengths. For those situations where you notice it, it's easily controlled by using lens corrections in Lightroom and Adobe Camera Raw, or devignette in Aperture.
Those nits aside, when it comes to performance, this lens outshines the non-USM models (such as the 18-135mm and 18-200mm) and has a broader zoom range than the 17-55mm or the 17-85mm alternatives. At $795, it is an investment in your DSLR system. But for my everyday lens that stays on the 60D, I feel the same way about the EF-S 15-85mm f/3.5-5.6 IS USM on that body, as I do about the 24-105mm L on the Canon 5D Mark II... confident.
---