I've had photographers tell me that they would patiently wait -- sometimes for an hour -- for people to clear out of a scene so they could photograph it. This becomes a bigger challenge once school lets out and family vacation season begins.
But, do people really ruin your scenic shots? Take a look at the comparison below, captured at Ledson Winery in Sonoma County. (Cast you vote for which image you like best in the comments section of this article.)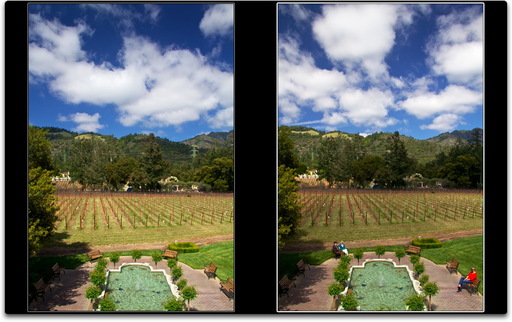 Do people really ruin this scenic shot? Personally, I don't think so. Click on image for larger version. Photos by Derrick Story.
Sometimes people add visual interest to a composition. Plus they can help with sense of scale. Yet it's true, there are those situations where they are an annoying distractions no matter how you compose the scene.
So the answer for me is to try to capture the photo both ways, then decide later which version I like best. And if it's not possible to eliminate those pesky humans, then I wait for a decisive moment where they're doing something interesting.
As for the photo above, which way to you vote? People... or not?
---