Macworld Magazine has published my full review of the Canon EOS Rebel T3i from a Mac perspective. In terms of base performance, this model is very similar to the excellent Canon T2i. But the few changes that were added are noteworthy.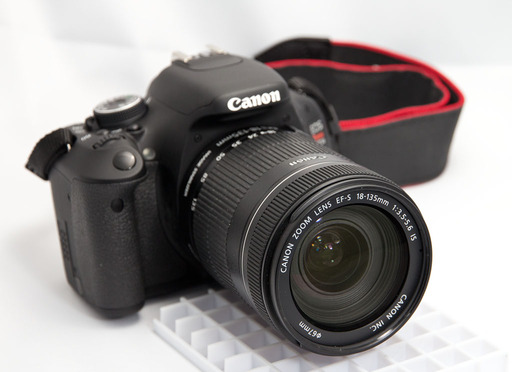 Canon EF-S 18-135mm IS Zoom Lens mounted on a EOS Rebel T3i. Click on image for larger size. Photo by Derrick Story.
Here are my pros and cons from the review.
Pros
Beautiful and useful Vari Angle 3-inch LCD (new to Rebels)
Wireless flash transmitter for multiple flashes (new to Rebels)
Robust movie recording options including full HD (Improved)
External mic jack
Clear, easy to use menu system and onscreen controls
Excellent image quality, even at ISO 1600
Versatile 18-135mm kit lens option provides all in one solution
Cons
Some physical controls (such as Display button) oddly placed
Lack of single button movie recording
Auto White Balance struggles in most indoor lighting conditions--a traditional Canon weakness
You might also want to note that this camera received 4.5 Mice, a rating that is rarely awarded to digital cameras. As for the Mac side of the equation, the T3i is already supported in Aperture and iPhoto. And its bundled software runs very well on Mac OS X. Plus, the video compression is H.264 for its captured movies, so you can drop them right on to your computer and start enjoying.
If you use a Mac and like shooting Canon, the Rebel T3i is an excellent DSLR for sophisticated consumers.
Related Articles
Canon EF-S 18-135mm IS Zoom Lens: More Reach for Your Kit Lens
"Canon T3i (600D) Review" - Digital Photography Podcast 269
Canon EF-S 15-85mm f/3.5-5.6 IS USM - Upgrade Your Kit Lens
---