When I first posted the story about the M.I.C. CF Card Reader for the iPad, I received mail saying that it wouldn't work for a variety of reasons. I now have the card reader connected to my first generation iPad, and I can say that it transferred full sized Jpegs off the CF card from my Canon 5D Mark II without a hitch. Ditto for Raw files.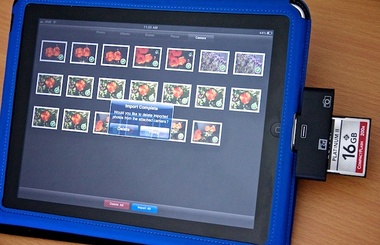 I then connected the iPhone to its USB port (yes, the reader is dual function), and downloaded shots I had taken on a recent trip to Florida -- again without incident.
I also found M.I.C. easy to work with. I ordered the CF Card Reader from their web site and was kept up to date via email on when the device would ship. And it arrived in my mail box as promised.
The CF Card Reader sells for $29.90, and is advertised to work with both generations of iPad. I can vouch that it lives up to its promise with the original iPad running the latest iOS software.
---