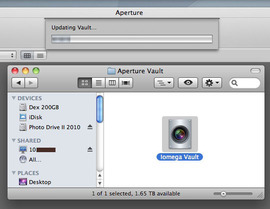 I've always used external hard drives to store my Aperture 3 Vaults. And even though I work with a referenced library these days instead of a managed library, I still use the vault to back up my image adjustments, ratings, and metadata. If my computer ever fails, I want to be able to restore my work as well as my master files.
But as I experimented more with personal cloud computing, I started thinking that it would be nice to have a copy of my vault on one of those network drives that has RAID1 mirroring. So I tried it.
On my local area network, I selected the Iomega ix2 storage drive that contained two 2TB hard drives that were set up to mirror one another. I opened Aperture and selected "Add Vault" from the gear menu at the bottom of the Library pane. In the dialog box that followed, I was able to choose the Iomega ix2 from the "Shared" drives. I initiated the process for creating a new Vault... and Aperture began backing up to it.
Even though my master Raw files are not contained in the Aperture library, the back up of my previews and work is still about 50 GBs. The building of the Vault for this went slowly, taking overnight to complete the job.
Subsequent updates to the Vault have gone much faster since Aperture uses incremental archiving -- it only backs up new data or data that has changed. It's still not as fast as a connected hard drive. But, I usually just work on other things during the few minutes it takes to refresh the Vault.
With this new set-up, I find that I'm running the Vault more often because it's more convenient. I doubt that I'll ever try this over the Cloud, but over my local area network, all seems well.
More Aperture Tips and Techniques
My next Aperture Workshop is Nov, 12-13, 2011 in Santa Rosa, CA. Write me if you're interested in attending.
To learn more about Aperture 3, check out my Aperture 3 Essential Training on Lynda.com. Also, take a look at our Aperture 3 Learning Center. Tons of free content about how to get the most out of Aperture.
---
The Digital Story on Facebook -- discussion, outstanding images from the TDS community, and inside information. Join our celebration of great photography!
---