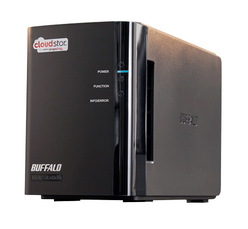 I've been testing the Buffalo Cloudstor with an eye toward it helping me better manage my photography content, both in the studio and while on the road. I have good news and bad in this regard. We'll start with a brief overview of the Buffalo network drive and the good.
What Is the Buffalo Cloudstor?
For testing, I purchased a Buffalo Technology CloudStor 2-Bay (1 x 1 TB) Gigabit Ethernet Network Storage CS-WX1.0 for $129. I thought was a great price for a unit that provides Raid 1 mirroring between the drives, network connectivity, and software to make cloud access a snap. To get set up, all I had to do was connect the drive to my Airport base station via the supplied Ethernet cable and turn on the drive. I then registered with PogoPlug (Buffalo's online partner), downloaded the desktop app for my Mac, and spent about a half an hour configuring the set up.
The only problem I had during this process turned out to be my own fault. When I first got the Buffalo, I swapped out the 1 TB drives for a couple of 2 TB drives that I already had. The Cloudstor didn't like them for some reason. But I didn't know that at first. I thought I was having connectivity problems, but in reality, it was the swapped out drives. When I finally figured out to put the original 1 TB drives back in, every thing worked great. Go figure.
Access to My Master Raw Files While on the Road
Even though the Buffalo can perform a variety of cool tasks, such as serving up your iTunes library from afar, I was basically interested in two things. First, I wanted it to store my master Raw files so I would have access to them from anywhere in my studio, and while on the road.
My workflow is that I work with a referenced Aperture library on my MacBook Air while traveling. So I have a hefty library full of thousands of Jpeg previews with me. But every now and then I need the original Raw file, and having those available via the cloud would be handy. Since my Projects in the Aperture library are organized the same way as the referenced file folders on my external drives, finding a master image is a snap.
On average, it took the Buffalo Cloudstor about a minute and a half to download a 27 MB Raw file from a remote location. Not blazing fast, but workable for those times I need a couple masters while on the road. In the studio on the local area network, it was faster.
Using the Cloudstor as a Raw File Backup While on the Road
The second task I was interested in was using the Cloudstor as an image backup device while I'm working on location. Wouldn't it be nice to upload a day's shoot from the hotel and know that all of your Raw files are safe and sound back home? Unfortunately for Raw shooters, the technology just isn't there yet.
I tried a sample shoot of 79 Raw files that totaled about 2 GBs of storage, and uploaded them off the card via my MacBook Air to the Buffalo Couldstor about 6 miles away at my studio.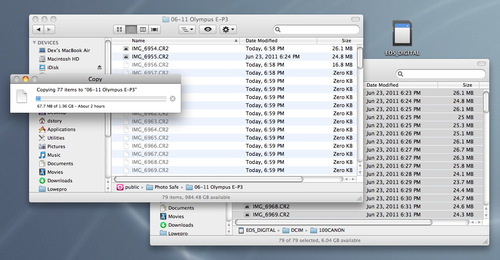 A 2 GB upload required 2 hours to complete via the cloud.
Even with really good cable Internet access on both ends, the upload took 2 hours. On a normal day's shoot, I rack up between 300 and 600 Raw files, and the Internet connection on the road often isn't nearly as good as what I tested at home. So it's conceivable that the upload would not be finished by the time I got up the next morning, or that the Internet connection would timeout before completion.
The Bottom Line
The Buffalo Cloudstor network drive is a terrific value considering that you get TBs of storage, easy to use software, and all of this capability at a great price. You can use it to share files on your local area network, and better yet, remotely via the Internet.
You can preload it with your master image files by connecting a separate hard drive via the Cloudstor's USB port on the back of the unit, then access those files from anywhere you have an Internet connection. It's not the fastest server on the planet, but it's fine for small batch downloads.
It can also serve as a back-up for traveling photographers, but it's not practical for large batches of big Raw files. If you shoot Jpegs, you'll most likely have a good experience as long as you have good bandwidth.
---
The Digital Story on Facebook -- discussion, outstanding images from the TDS community, and inside information. Join our celebration of great photography!
---