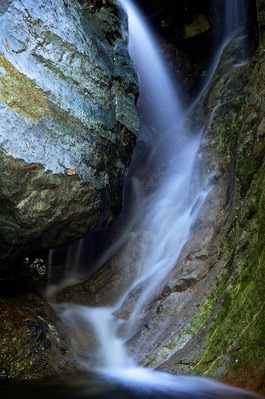 High ISO performance, sophisticated noise reduction, fast lenses... who needs a tripod for outdoor photography? Well, we all do -- at least some of the time. This waterfall shot at Sugar Loaf State Park required a 4-second exposure at ISO 100. Plus, I had to work from a slightly precarious spot. The only way to steady the camera in that particular location was with a tripod.
I'm the first to admit that this isn't my favorite photo accessory. But when I suspect there might be an opportunity for a dramatic depth-of-field composition, or a long exposure water shot, I'll buckle up a set of sticks.
Having a rig that won't break your back makes this decision a bit easier. For this shot, I used a Giottos VGR9255 that weighs only 3 lbs and a Photo Sport 200 AW that's very comfortable, even with a tripod attached.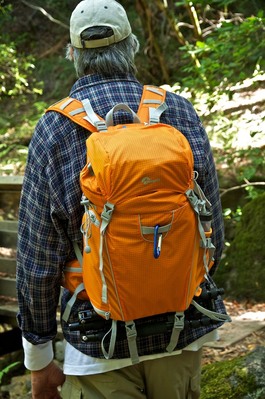 For the shot itself, I used a Canon 60D with a EF-S 15-85mm f/3.5-5.6 IS zoom. I added a polarizer to allow me more flexibility when stopping down the shutter (because of its 2-stop density), and relied on the self-timer to trip the shutter (so I wouldn't jar the camera). I work in Aperture Priority mode for these types of shots, but Shutter Priority is great too. What you really need to do is get out of Program mode.The shot was processed in Aperture 3.
There were only a handful of other photos recorded with a tripod on this trip. But, I wouldn't have been able to create the images I wanted in those instances otherwise.
Top Photo: Sugar Loaf Waterfall by Derrick Story. Bottom Photo: Lowepro Photo Sport 200 AW by Pat Scheetz. Click on images for larger versions. More images are published on the TDS Flickr site.
---
The Digital Story on Facebook -- discussion, outstanding images from the TDS community, and inside information. Join our celebration of great photography!
---