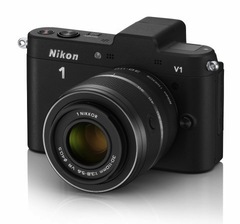 I've been thinking about the Nikon 1 and trying to figure out why there isn't an APS-C sensor in that handsome body. Instead, as you probably know by now, Nikon designed a 1" sensor that's smaller than micro 4/3, but bigger than a compact. Some speculate that they did this to protect their DSLR business. Really?
I guess Sony didn't get that memo when they designed the NEX series, which features a 1.5X APS-C sized 14.2 MP CMOS sensor. Nor did Olympus when they put the same sized sensor in their PEN series as they have in their DSLRs. Both companies, along with Panasonic and Samsung, might be feeling like they've dodged a bullet.
So, for whom is the Nikon 1 built? I doubt that they will lure away any NEX shooters. Olympus might be vulnerable up the road if they don't update their technology. Those who already love Nikon are most likely to embrace this system. Canon is going to announce something big in November, so its brand loyalists will probably sit tight for the moment.
Here's the thing from my point of view... if I'm coming to the game this late, then I would want to pull out all of the stops and leverage as much fantastic Nikon technology as possible to go after Sony. In my mind, the Nikon 1 doesn't do that. It feels like a camera designed by committee. And I really don't know who it's for.