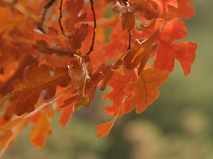 Here in Northern California, I can already feel the approach of Autumn. The light changes. The air smells different. Fall color is around the corner.
I've noticed that I haven't updated my library with any new Autumn shots in some time. Funny how I get busy with day-to-day tasks, and as a result, miss an entire season. So this year, I'm getting ready now to have the VW Van packed so I can leave quickly when the leaves begin to turn.
If your photo library could us a little updating in this category, now's the time to make your plans. First, you need a good resource so you can track the changing of the seasons. Here, I'm using CalPhoto. Photographer Carol Leigh will be hosting the Fall Foliage Hotsheet there. So find the resource for your area and check in regularly.
Next, get your outdoor gear together. Do you have fuel for the stove? Food and cookware organized? Get this stuff ready now. It's hard enough to break away from the grind. Once you get the opportunity, be ready to go.
Create open windows in your calendar. Mine tends to fill up a month or two ahead of time. So I've saved small blocks of days here and there. I might not hit the color at its prime (we need some luck for that), but I will be able to escape. Now's also a good time to let your family know that you might be gone for a day or two in October.
I'll talk more about fall color photographically in an upcoming post. But for now, I have to make sure I have plenty of coffee packed in the kitchen kit.
---
The Digital Story on Facebook -- discussion, outstanding images from the TDS community, and inside information. Join our celebration of great photography!
---