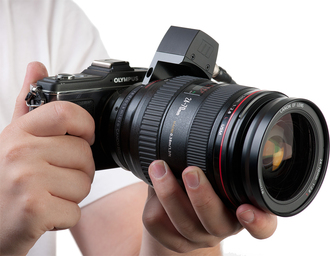 This isn't just any adapter. The Redrock Micro LiveLens MFT is the first active lens mount to allow Canon EF lenses to be used with any micro four-thirds camera body. It provides the power and electronics to control Canon EF lenses when attached to these cameras, such as the Olympus PEN or Panasonic G series. With the LiveLens MFT's control touchpad, the EF lens' aperture can be opened and closed in increments as small as 1/3 stop. The LiveLens MFT works with virtually every EF lens available today.
The active lens mount is available in the Redrock Micro store for $442.50. If you have lots of Canon glass and shoot micro 4/3, this could be interesting.
---
The Digital Story on Facebook -- discussion, outstanding images from the TDS community, and inside information. Join our celebration of great photography!
---