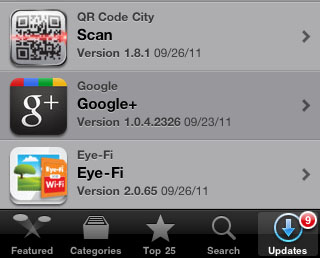 When I noticed the latest iApp update from Eye-Fi, I tested it right away on my iPhone. Why such a hurry? Well, my super nimble photographer set-up consists of a Canon S90, Eye-Fi Pro SD card, and my iPhone. Everything fits in my pants pockets, yet, I have sophisticated controls on the S90 to make beautiful images and send the ones I want immediately to any of my social networking sites.
If you haven't tried the Eye-Fi iOS app for the iPhone or iPad, it's quite refined these days. The app itself is free. But of course you need an Eye-Fi card.
Simple Workflow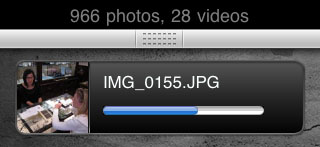 On the Canon S90, I shoot Raw+Jpeg. I've configured the Eye-Fi card to send any Jpeg I mark as "protected" to the iPhone. I have it ignore the Raw files all together. When I see a shot on the S90 that I want to publish, I simply launch the Eye-Fi app on the iPhone, then hit the protect button on the S90. Within a few seconds the Jpeg is transferred from camera to mobile phone.
Later, when back at the studio, I upload the Raw files in to Aperture as part of my normal photo management. So I'm getting the best of both worlds. I have the ability to capture high quality images in the field and publish them immediately, while still maintaining a Raw workflow for maximum quality when I need it.
For projects where I need finer control, I use a more robust version of this workflow - iPad with ShutterSnitch talking to an Olympus PEN with an Eye-Fi card. But for extreme nimbleosity, you can't beat the compact camera to iPhone workflow.
More Nimble Photographer Articles
Review: Filterstorm Pro for the iPad
Revisiting a Wireless Workflow from Camera to iPad
Adobe Launches Carousel for Mobile Photography on iPhone, iPad, and Mac
Minimal Folio for iPad: Truly Useful Portfolio and Presentation App
Return of the Nimble Photographer
Nik Software Brings Its Magic to the iPad with Snapseed
Putting Eye-Fi "Direct Mode" to the Test
M.I.C. CF Card Reader for the iPad: Does it Work?
Eye-Fi Card, iPad, and ShutterSnitch for Wireless Transfer
How to Create and Deliver Content for the iPad
Acme Made iPad Cases for Style and Protection
Will the iPad Squish my Photos?
Bluetooth Keyboard and iPad - A Powerful Combination
Turn Your iPad into a Live Camera
Lowepro Classified 160 AW is Perfect Bag for iPad Toting Photographers
"iPad for Photographers" - Digital Photography Podcast 219
---
The Digital Story on Facebook -- discussion, outstanding images from the TDS community, and inside information. Join our celebration of great photography!
---