An assignment that I was looking forward to this week was covering the Wine Country Big Q. Set against the rolling hills backdrop of Sonoma County, BBQ artists from all over the country gathered to compete for prizes and bragging rights over who could prepare the most delicious pork, chicken, and brisket. If you know the world of professional BBQ, you know these events are a big deal.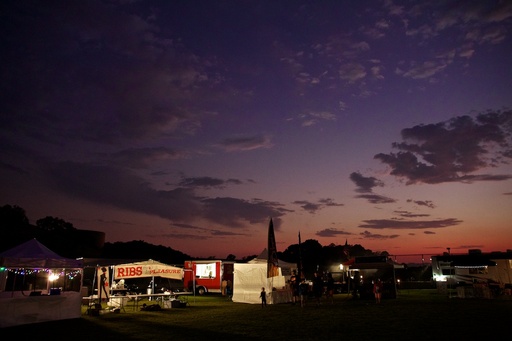 The night before the Wine Country Big Q. Click on image for larger size. All photos by Derrick Story.
Since the event officially began on Saturday at 1pm, I was there on Friday night. It's a habit I developed back in the wedding days, and it yields rewards every time. So, as the sun was setting, I was there among the chefs and smoke and anticipation. One of the event coordinators spotted me and asked, "What are you doing here tonight? It's practically dark." Yes it is!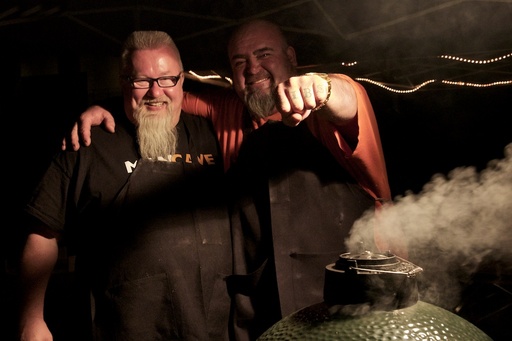 Dr. BBQ (Ray Lampe) and Gorilla (Rich Bacchi) took time out from their work on Friday night to pose for this slash light portrait.
One of my favorite moments was meeting the guys at Tex Wasabi's All-Stars. The title is fitting. The force behind Tex Wasabi is Food Network star, Guy Fieri. He's a local hero in Santa Rosa who brings it home on a regular basis. Also on the team was Dr. BBQ, Ray Lampe, who is a legend in this world. I photographed him on Friday night with "Gorilla," also known as Rich Bacchi. This was a good call, because these two guys, and the rest of the team, won the top award the following day.
I made prints for Ray and Rich and brought them to the event on Saturday as a thank you for letting me photograph them. I also make the digital files available in case they need them for their own promotion. This is something I try to do with celebrities. I include my name and email on the back of each print in case they need to reach me in the future.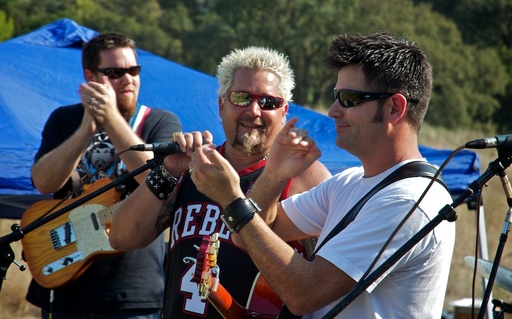 Guy Fieri joins musician Pete Stringfellow on stage during Pete's performance on Saturday afternoon.
Then on Saturday afternoon, it was back to work. Guy Fieri made an appearance and hung out with his crew at Tex Wasabi. He's also friends with another local star, Pete Stringfellow, who opens for Clint Black, Randy Travis, and others. Pete's band knocked it out of the park that afternoon.
The bottom line is, as a photographer, you're going to best capture an event if you immerse yourself in it. Don't be afraid to get smoke in your eyes. Respect your subjects. And get there the night before.
---
The Digital Story on Facebook -- discussion, outstanding images from the TDS community, and inside information. Join our celebration of great photography!
---