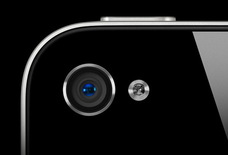 For many, Apple's announcement of the 5th generation iPhone is the next step in mobile communications. For me, it's my next camera.
The history of iPhone photography is a condensed chapter in the big book of digital imaging. With the first iPhone, we had a 2-megapixel camera with very few controls... much like our early compacts a decade ago. But now, with the latest unveiling of Apple's smartest of smart phones, we'll have a camera that can stand on its own 3 feet with most dedicated compacts. (Well, granted that you've found a way to mount it on a tripod.)
My point is, that we'll have legitimate megapixels, robust image processing, and a variety of software to choose from. It's a real camera. Plus, it includes GPS, cellular connectivity, WiFi, Bluetooth, razor sharp screen -- and it even makes phone calls.
I'm sure I'll enjoy hearing about the wonders of iOS 5 and the increased horsepower under the hood of the new iPhone. But what I really want to do is go take pictures and see how they look in Aperture. Tuesday is new camera day.
---
The Digital Story on Facebook -- discussion, outstanding images from the TDS community, and inside information. Join our celebration of great photography!
---