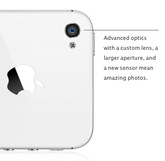 As I mentioned yesterday, Apple announced my next camera during their special event today. I had a good feeling that they were going to put some muscle into this upgrade. And in all honesty, they exceeded my expectations.
Let's start with the lens. The 4S has five optical elements with a maximum aperture of f/2.4. Glass is so important to picture quality, and I'm happy to see this type of attention paid to a "camera phone." Plus, having the wider aperture helps in low light situations.
They've also beefed up the infrared filter to help improve color. Then Apple added the A5 chip with an image signal processor that's fairly robust for a camera of this nature. The picture taking experience is also improved. You can now activate the camera directly from the Home button, and it is more responsive once you do, including less shutter lag. It might actually feel like a real camera. Use the volume button to trip the shutter if you wish.
The backside illuminated sensor now supports 8 megapixels of resolution. This gives you a bit more latitude for cropping, especially since you're working with a fixed lens that has a moderately wide 35mm focal length.
Other goodies include face detection, HDR, 1080p video (at 30 fps), and a nifty editing app for basic adjustments. And of course this all works with the 3rd party apps that have been delighting us to this point.
I'll write a full review of the iPhone 4S camera as soon as I get my hands on it. But based on the specs I see, I think it will be an excellent photographic tool.
---
Find great deals at the TDS Photography Store on Amazon.
---