I don't always want to look the part of the photographer. Sometimes I'm just hanging out with friends, having a good time. That doesn't mean I don't want gear with me in case I spot a great shot. These are the days that I enjoy having the Lowepro Pro Messenger Bag 180 AW
at my side.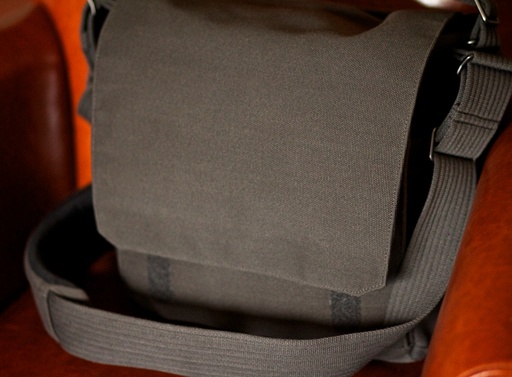 Lowepro Pro Messenger 180 AW
The fabric looks like classic canvas. I love the way it brushes against my arms as I'm working. In fact, it's actually high tech material that's weather resistant and retains its good looks over the long haul. The flap is clever. In "security mode" it stays closed via generous amounts of velcro. Nobody is going to get inside the Pro Messenger without you hearing about it. But when you're working, change over to "quiet mode" that provides access to all of your gear without a sound. You can see how the FlexFlap design works on the Lowepro features page.
Inside, I can transport my 70-200 f/2.8 on body, plus a couple lenses, flash, and accessories. The pocket in the back has a zippered top and bottom. Open them both, and you have a trolly sleeve that slides over the handle of your rolling luggage. Close the bottom zipper and you can stow an iPad or collapsable reflectors there.
If the weather turns foul, I can use the All Weather cover to protect the entire bag. It's stowed behind the front pocket for easy access. Other handy features include a long fabric strap with generous shoulder padding, stretch side pockets, repositionable dividers for a variety of configurations, a large front pocket big enough to hold additional gear including a spare camera body, business card window, and top carrying handle.
Street price for the Lowepro Pro Messenger Bag 180 AW
is $169. It's one of those rare items that performs as well as it looks.
---
Find great deals at the TDS Photography Store on Amazon.
---