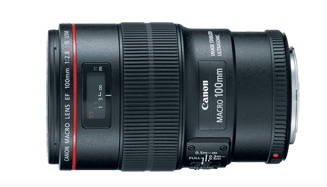 Is it possible to explore the world of macro photography without a tripod? And when it's time to make a movie, could you frame a tight shot by just holding the camera in your hands?
I've been field testing the Canon EF 100mm f/2.8L Macro IS USM Lens that is the first Canon lens to incorporate Hybrid Image Stabilization that compensates for both angular and shift camera shake during close-up shooting. It's like having a built-in gyro for your camera. Other features include silent focusing USM, maximum aperture f/2.8, wide manual focusing ring, lens hood, and soft carrying pouch. This is a lens you can use for 1:1 macro photography, portrait work, sports, and handheld movie making.
I began by going for an afternoon stroll with just camera and lens, no tripod, to shoot close-ups. It was a freeing experience. My success rate was about the same as when lugging sticks with me. I couldn't stop-down the aperture as far as when using a tripod, but I was truly impressed that by steadying myself and using good shooting technique, I could get artistic close-ups with this lens. And did I mention that I was not carrying a tripod?
Next stop, handheld movie making from the stands at Discovery Kingdom in Vallejo, CA. I was there more to enjoy the dolphins putting on a show, than to make a video, so I left the monopod at home. Even with constant panning to follow the action, the Hybrid IS system compensated for camera shake and provided steady shots for movie footage as well as stills.
I also learned that the manual focus override for filmmaking is the way to go with this lens. I could snap the image into a crisp composition much quicker manually than waiting for the autofocus to catch up. If you shoot movies with this lens, I recommend that you use the manual focusing as much as possible. It's easy and very effective.
This is also an excellent portrait lens. Notice the detail on the Giraffe eyes, and the soft, pleasing background. This image was shot at f/4, which is about as much as I stop down the 100mm for portrait work.
Bottom Line
The Canon 100mm L Hybrid IS Macro is a versatile, well-designed prime lens that's perfect for close-up photography, portraits, and movie making. It's very sharp, has a relatively fast 2.8 maximum aperture, and features an amazing image stabilization system. Its only weakness is ocassional slow auto focusing. You can partially compensate for this by using the 3-position "focusing distance range selection" switch on the side of the lens. I also discovered, however, that manual focusing is so easy with the 100mm, that I would use that to snap the composition into view, then finish off with auto-focus. After about an hour with the Canon 100mm IS Macro, I was working naturally with it. And quite honestly, I did not want to take it off the camera.
The lens is currently on special for $886 at B&H Photo until Jan. 7, 2012. That is the best price I've seen to date. And if you need a professional quality, technologically advanced 100mm macro, I would give this lens a very close look.
---
The Digital Story on Facebook -- discussion, outstanding images from the TDS community, and inside information. Join our celebration of great photography!
---