I just watched a terrific video by Lee Morris of FStoppers about improving the audio for your DSLR videos. I was expecting a complicated setup that I wouldn't be interested in. Instead, he used an iPhone app called iTalk Premium ($1.99) by Griffin Technology. And that was it. He demonstrates the app in this movie.
Use An iPhone To Record High Quality Audio For Your Videos from FStoppers on Vimeo.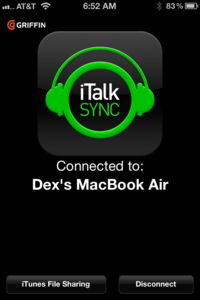 You can transfer the audio files from your iPhone to your Mac or Windows computer using iTalk Sync, which is a free download. I've tested the audio recorder and the sync app, and they worked great.
The result is a high quality .AIFF audio file that I can import into Final Cut X to sync with the video. In the tutorial, Lee shows how to do this with Adobe Premier. The process is essentially the same with Final Cut X.
Overall, I think this is a great solution to improve our movie making. I'll be testing it soon for video I'll be recording in Las Vegas for WPPI.
---
The Digital Story on Facebook -- discussion, outstanding images from the TDS community, and inside information. Join our celebration of great photography!
---