The HP TopShot LaserJet Pro M275 multifunctional printer produces fast B&W or color output (17 PPM black & 4 PPM color), is network enabled including AirPrint for iOS devices, and has a 3D scanner. Since its scanner is the most unique feature, I wanted to explore that function first.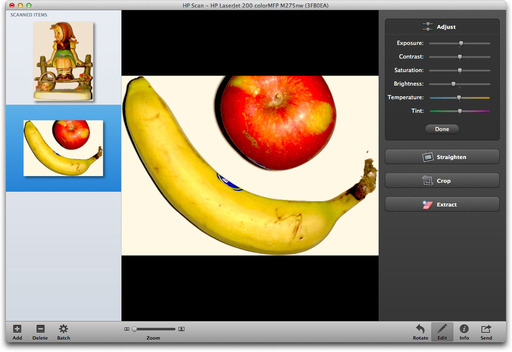 The bundled HP Scan software includes basic image adjustments so you can create a final product quickly.
The TopShot uses a raised arm with camera and LED lights to capture the image. You simply place an object on its white platform, raise the arm, and set up the job. You can scan directly from the TopShot's built-in LCD panel, but I preferred to use the bundled HP Scan software that provides more control over the process.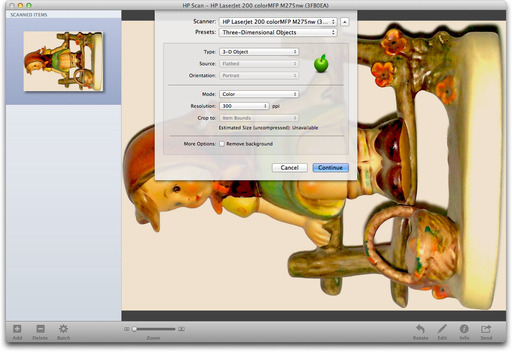 Set up is quick with HP Scan software.
Once you set up the job and make the initial scan, there are handy controls to straighten, crop, adjust tone and color, or even extract the background. You can then save the file to your computer.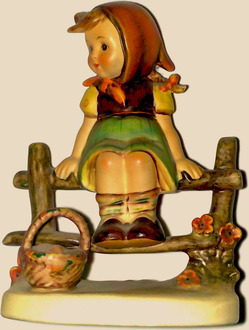 The idea is to enable individuals and small business types to quickly create photos of objects without having to use a camera, set up lighting, transfer the images, edit them, etc. This ability could be particularly handy in a steady volume business where quick turnaround is important.
The image quality is sharp with good color. But the lighting isn't "soft box" quality, nor would I expect it to be. You'll get a dark shadow outline, and with shiny surfaces, probably a hotspot or two.
The HP TopShot LaserJet Pro M275 sells for $399 US. For that investment, you get a fast laser printer, unique scanner, and plenty of wireless and online features. It won't replace the photography studio for product shots, but it certainly can save you time when turnaround is the top priority.
---
The Digital Story on Facebook -- discussion, outstanding images from the TDS community, and inside information. Join our celebration of great photography!
---