I was impressed with Corel's ambition in its 1.0 release of AfterShot Pro. And for the most part, the execution wasn't bad either. I provide a complete rundown of my impressions in the Macworld Magazine review, Corel AfterShot Pro photo manager plays well in the big leagues.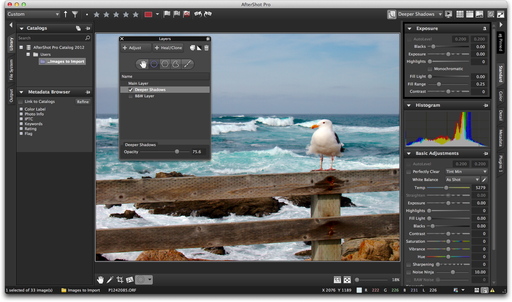 Pros
Fast decoding of raw files, even on a laptop
Excellent raw file support across camera brands
Completely non-destructive workflow
Easy to use Layers implementation
Decode or edit images on the fly without a catalog
Perfectly Clear and lens correction tools included
Plug-in support for a variety of tools
Cons
Can't export slide shows for outside display
Library management less refined than competition
Mediocre sharpening tools
Lack of importing tool for those who want it
File output limited to TIFF and JPEG
Dialog boxes don't feel Mac-like
Since the review, I've been using AfterShot for quick turnaround jobs. It won't replace Lightroom or Aperture (at least not yet). But it has taken over the jobs I used to use Adobe Camera Raw and Bridge for. You might want to try the 30-day free trial. Full price is $99. But Corel does offer the "competitive upgrade" deal for $79.
---
The Digital Story on Facebook -- discussion, outstanding images from the TDS community, and inside information. Join our celebration of great photography!
---