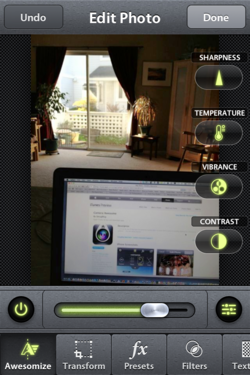 It's rare when all of the hosts on TWiP agree on anything, but we all wanted to choose Camera Awesome as our pick of the week last week. Why? In short, if you have an iPhone 4/4S, this app brings it very close to being a great compact camera.
Camera Awesome (by the cool folks at SmugMug) has three basic modes: shooting, editing, and sharing. In shooting mode you have a number of helpful controls including burst rate, IS, self timer, interval timer, level adjustment, grid lines, and more.
One of its best tricks is allowing you to focus and expose on different parts of the composition. For example, when in Single Shot mode, tap the frame and you'll see a blue circle inside a green box. You can move this anywhere around on the frame and the camera will focus and expose based on where you place the target.
Now, pinch open on the target, and you can separate the "blue circle expose" from the "green box focus" and work with those points independently. If you decide you want to return to something more simple, click on the triangle pop up menu, and choose Big Button. Now you just have to tap the screen to take a picture. Want to go back? Chose Single Shot and get the focus/exposure target.
When it's time to edit, tap on the photo box in the lower left corner. Click on the Magic Wand icon and start with the "Awesomize" filter. In most cases, that's all you'll need. But there are tons of other editing controls included. And if you need more, Camera Awesome offers "in-app" purchases for additional tools.
Now, it's time to share your image with the world. You'd think that SmugMug would be the only option. It's not. You can set up Facebook, Twitter, Flickr, Picasa, Photobucket, Email, and of course, SmugMug. Hats off guys!
There are plenty of other features too, that I don't have time for here, that you should explore once you download the app.
Camera Awesome is available in the App Store for free. Even if you go crazy with the in-app purchases, you'll still only spend a couple bucks. I've replaced my Apple Camera app with Camera Awesome on my home page. The only thing I wish it could do is become my default camera when I double-push the home button. I guess Apple would have something to say about that.