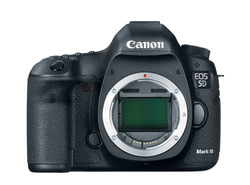 Good news! Canon releases the 5D Mark III. Bad news: Price tag is $3,500 here in the US. That's $1,000 more than I paid for my 5D Mark II. Seriously?
So what do I get for that additional $1,000? 61-point autofocus, 6 fps, DIGIC 5 processor, and better weather sealing. Yes, yes, I know about better high-ISO performance and those other under-the-hood refinements. But I expect those when it's been 3 years since the camera has been updated.
Don't get me wrong. I think the specs for the 5D Mark III look great. It will probably be one of the best DSLRs on the market. I would have been willing to pay $2,999 for it (but with some grumbling). But $3,500 in this economy where photographers are doing our best to keep business afloat, is too high.
So instead, I'm gong to send my 5D Mark II in for a cleaning. Because for now, it will remain my go-to camera for assignments.
---
The Digital Story on Facebook -- discussion, outstanding images from the TDS community, and inside information. Join our celebration of great photography!
---