There's plenty to play with in Adobe Photoshop Lightroom 4
with new features such as the book layout tool, video management, and geotagging. But the things I like best about this release are more subtle.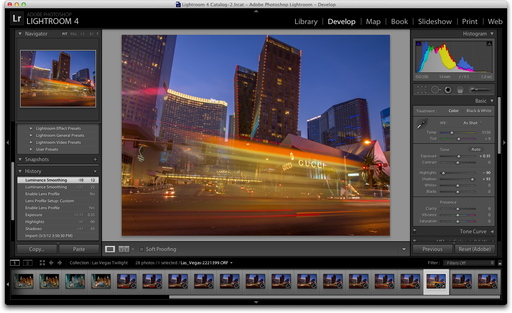 At the top of the list is the overhaul of the Basic panel in the Develop Module. Image editing has always been a strength of Lightoom, and they've improved both the usability and the technology under the hood for this release. Making your pictures look great is easier than ever.
A really cool addition is the option to add lossy compression to DNG conversion. The image degradation is virtually unnoticeable, but the file savings are substantial. So if you have 30 shots of a wide receiver catching a football, you can compress the 27 that aren't the picks, and still keep them in your catalog.
Soft proofing is a handy tool to have when you need it. Sometimes I prefer the wilder approach to my printing and don't need soft proofing. But for those jobs where I do have to precisely manage color, it's good to have.
And believe it or not, I'm very happy about the email integration. Seems like we should have had that long time ago. Regardless, it's well implemented, and we have it now.
And finally, I love the price reduction. $149 for full copy; $79 for an upgrade. That is a lot of software for the money.
Just in case you're wondering what I'm not as crazy about... Well, I don't think the video features are fully baked (cannot attach snippets together!) and the Map module seems a little basic. But what the heck. I'm not thinking Lightroom for video anyway.
Overall, I give Lightroom 4 a big thumbs up. Good tools and great value.
---
The Digital Story on Facebook -- discussion, outstanding images from the TDS community, and inside information. Join our celebration of great photography!
---