The killer feature in Apple's 3rd generation iPad is the Retina display. The 9.7-inch LED-backlit glossy widescreen shows your pictures with 2048-by-1536-pixel resolution at 264 pixels per inch. And you will notice the difference right away.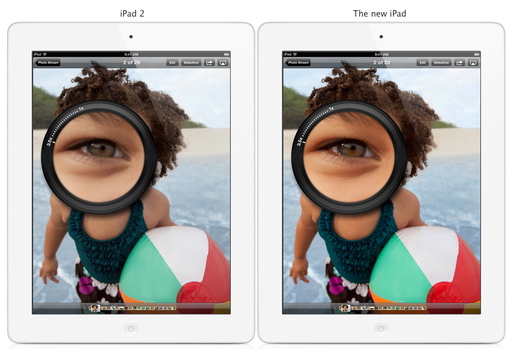 One of the first tests I ran was to open my favorite shots in Minimal Folio on both the iPad 2 and the New iPad, then place the displays side by side. The difference is stunning. The New iPad isn't only the best mobile display I've seen, it's one of the most impressive ways to look at my images, period. It's like having a collection of SizzlPix that you can carry in your backpack.
My workflow for moving images out of Aperture and on to the iPad has changed a bit as a result. I've created a new export preset that saves the images at 2048 on the longest side at 264 resolution. I then upload the files to Dropbox so they will be available to Minimal Folio on the iPad. The files are bigger now than the 1024s I previously used, but the payoff is more that worth it.
So that leads us to the question that I and many photographers grapple with: "Is the Retina display worth the price of upgrade?"
If you use the iPad as a portfolio to display your work: yes.
If the iPad is an important part of your photography workflow: yes.
If the iPad is more of an email, web browsing, Facebook tool: you can probably wait, just don't look at The New iPad in the meantime.
The iPad 2 is a fantastic device. I was very happy with mine and still use it daily. But I needed the New iPad with its improved camera and Retina display for a project I'm working on. And even after reading the marketing copy and in-depth reviews, I was still shocked by the brilliance of the display. It's an amazing tool for photographers.
---
The Digital Story on Facebook -- discussion, outstanding images from the TDS community, and inside information. Join our celebration of great photography!
---