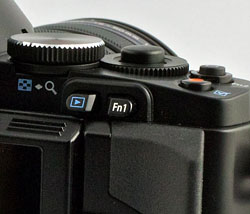 Typically, most DSLR shooters lock their focus by pressing the shutter half way, recomposing, then pressing further to record the image. It's a tried and true technique that I still use to this day.
But there are situations, such as portrait shoots and action photography, where you might want to move focus activation to a different button. This technique is often called "back-button focusing" because the most common repositioning is the button on the back of the camera.
Improve Photography has published a good article on this technique titled, Back-Button Focusing: Easier Than You Think!.
We'll be practicing back-button focusing at the upcoming TDS Action Photography Workshop, and also at following events later on this season. It's worth having in your bag of tricks.
---
The Digital Story on Facebook -- discussion, outstanding images from the TDS community, and inside information. Join our celebration of great photography!
---