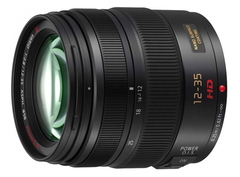 I just read a review of the Panasonic LUMIX G X VARIO 12-35mm F2.8 ASPH zoom lens on PhotographyBLOG that helped me understand more about this promising fast aperture zoom lens. As continue to depend on micro four thirds cameras for some of my work, I'm looking for a zoom I can use for existing light assignments.
Based on the review, this looks like a finely constructed lens with excellent mechanical performance. I could use it on my Olympus bodies by simply turning off the optical stabilization on the Panasonic lens (Olympus builds IS into the body).
But the problem is that the center sharpness at all focal lengths is soft with the aperture wide open. PhotographyBLOG writes, "It is a little soft at F2.8 though, so it's best used stopped down to F4 for the best results..." And their test images clearly bear that out.
I don't want to spend good money ($999 in this case) for a fast lens, just to stop it down. If I have a f/2.8 zoom, chances are that I'm shooting wide open most of the time.
So, for the time being, looks like I have to stick to prime lenses in low light situations. Too bad. That Panasonic zoom looks like a great lens at f/4 and beyond.