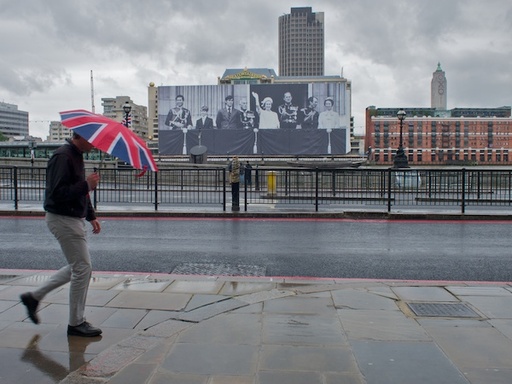 "I captured this with my Olympus Pen E-PL1 camera and 17mm 2.8 pancake lens," writes Roderick James. "This was the last day of the Royal Jubilee in the UK, and a giant poster of the Royal family (from the Queen's silver jubilee) was hung across the full width and height of a building along the Thames. I saw this guy with his Union Jack umbrella walking toward the poster, and I couldn't resist grabbing this shot."
Thanks Rod for sharing this image. It's funny, I was just talking about the pancake lens yesterday.
This is our 220th Grab Shot! Wow. If you want to review the collection that began back in 2006, go to our Grab Shots page.
If you have a candid you'd like to share, take a look at our Submissions page, then send us your Grab Shot. We'll try to get it published for you on The Digital Story.
And you can view more images from our virtual camera club in the Member Photo Gallery.