Apple announces a 1-2 knockout punch for photographers: a redesigned MacBook Pro 15" with Retina Display combined with an updated Aperture (v 3.3) that supports the super high-resolution display.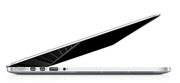 Other Mac laptops were refreshed also (MB Airs, MBP 13" and MBP 15" without Retina display and with traditional hard drive), but my argument for this week's show is to purchase the 15" Retina MBP that is an all solid state machine. It's virtually the same thickness as the MacBook Air, has a quad processor instead of a duo, plus an impressive NVIDIA GPU that you don't get in the MacBook Airs or in the 13" MacBook Pro.
Add the updated version of Aperture with its improved performance and intriguing new editing tools, and you have a photographer's dream machine. If you don't believe me, tune in and let me make my case.
Listen to the Podcast
You can also download the podcast here (30 minutes). Or better yet, subscribe to the podcast in iTunes. You can support this podcast by purchasing the TDS iPhone App for only $2.99 from the Apple App Store.
Monthly Photo Assignment
Signs is the June 2012 Photo Assignment. You can read more about how to submit on our Member Participation page. Deadline for entry is June 30, 2012.
More Ways to Participate
Want to share photos and talk with other members in our virtual camera club? Check out our Flickr Public Group. And from those images, I choose the TDS Member Photo of the Day.
Podcast Sponsors
Red River Paper -- The $7.99 Sample Kit is back! And with free shipping.
Make Your Photos Sizzle with Color! -- SizzlPix is like High Definition TV for your photography.
Need a New Photo Bag? Check out the Lowepro Specialty Store on The Digital Story and use discount code LP20 to saven 20% at check out.
---
Technorati Tags:
digital photography
,
podcast
,
technique
,
Technology
,
The Digital Story
,
tips