In the world of photography, the iPad has become an equal partner in my gear bag. Among the many reasons I like it so much are that the apps are affordable, easy to use, and targeted to specific functions. Just like everyone else, I have my favorites. And I'd like to know yours too.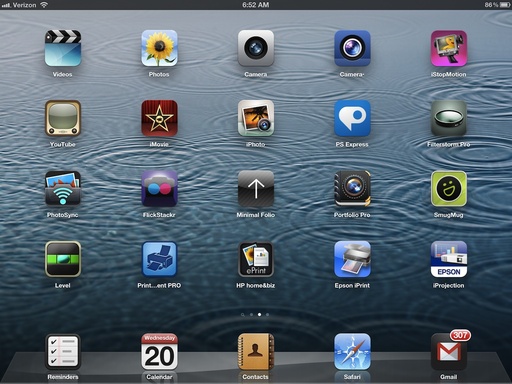 Are any of these on my list of 5 favorite iPad apps? You bet!
Since I am a photographer, I'm going to be biased toward imaging apps. But photography isn't always about just taking pictures. We have to do other stuff too. So my five favorites right now are:
iPhoto for iOS - Terrific all-around imaging app that interacts well with the Apple ecosystem.
iStopMotion for iPad - Recording and managing time lapse movies has never been easier or more fun.
PhotoSync - Even though I use iCloud and like it, sometimes I just want to "send this photo to this device" right now. PhotoSync does that easily and quickly.
iA Writer - For me, this is the best note-taking app on the planet. Clean, functional, easy to use. And it interacts with iCloud so my documents are up to date all the time on all iOS devices.
Reminders - I've tried many "ToDo" apps, but in the end, Reminders works the best for me because of its deep integration in iOS and iCloud.
So what are your current five favorites? Post them in the comments if you want to share.
---
You can find more photo tips and "photography how tos" on my Pinterest page.
---