The Micro Four Thirds system supports a variety of lenses by Olympus, Panasonic, and Sigma. But even with that wide selection, there are a few gaps. For example, I needed a fast aperture zoom for a recent assignment. Thanks to the Olympus MMF-3 4/3 Adapter
($165), I was able to use one of my favorite Olympus optics, the Olympus Zuiko 12-60mm f/2.8-4.0 zoom
(which is the equivalent of 24-120mm).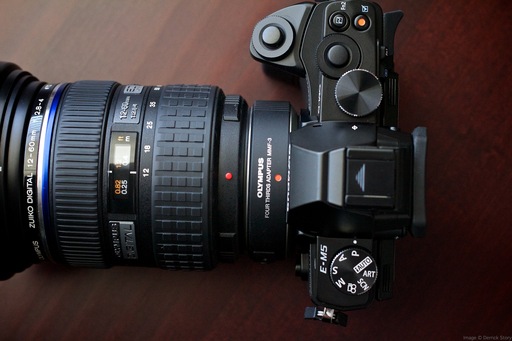 The MMF-3 is the latest Four Thirds to Micro Four Thirds adapter from Olympus. It's weather sealed, so when used with the 12-60mm zoom and the OM-D EM-5, the entire unit is moisture and dust resistant.
In terms of image quality, the MMF-3 combined with the 12-60mm zoom produces sharp, colorful photographs. And its wide maximum aperture combined with the OM-D's extended ISO performance provided an excellent tandem for existing light photography.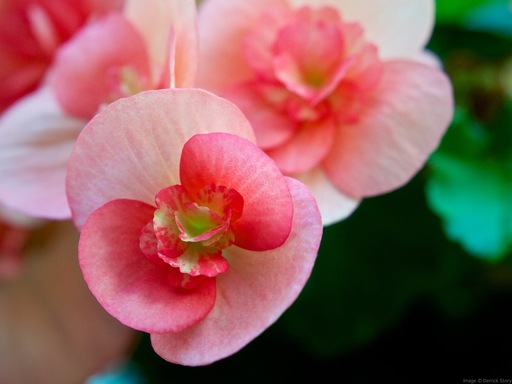 Begonia photographed with the Olympus 12-60mm Four Thirds zoom mounted on an OM-D using the MMF-3 adapter. Photo by Derrick Story
The weakness with this combination is focusing speed. The 12-60mm locks-in much slower than native Micro Four Thirds zooms. Over the course of two days of event shooting, I probably missed a half dozen shots because of focus lag.
For everyday shooting -- landscapes, even portraits -- the focusing speed shouldn't be a problem. But for fast moving subjects and events, it could be frustrating.
Bottom Line
If you have a favorite Four Thirds lens that you'd like to use on the Olympus OM-D or PEN, the weather-sealed MMF-3 adapter will make the connection for you. On the lenses I tested, image quality was excellent across the board.
So if the decrease in auto-focusing speed isn't an issue for you, you can save a bundle of money with the MMF-3. In addition to the 12-60mm zoom, I'm also testing it with the Olympus 9-18mm Four Thirds lens - that's $1,600 of glass that I can mount on the OM-D for only a $165 investment.
---
You can find more photo tips and "photography how tos" on my Pinterest page.
---