Like many other MobileMe users, I spent part of Saturday pulling content off my little corner of the Apple universe and saving it to the computer. As of today, it's goodbye MobileMe, hello iCloud.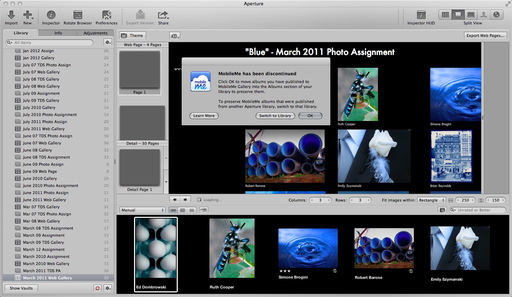 I was greeted with this message when opening Aperture.
Just One More Thing...
This morning, however, when I opened my Aperture library to work on the TDS Photo Assignment (to be published soon), there was this parting message: "Click OK to move albums you have published to the MobileMe gallery to the Albums section of your library to preserve them." Aww shucks! Apple will relocate my MobileMe galleries to Aperture.
By the looks of the progress bar underway now, this will take a while. But, what a considerate eulogy for an old friend.