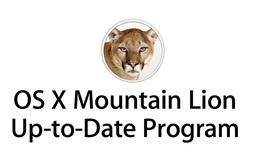 If you recently purchased the MacBook Pro 15" Retina display, or another of Apple's latest offers, you probably qualify for the Up to Date Program.
It takes just a few minutes to complete the registration. Once you've been approved (usually within 24 hours), you'll receive a code that you can use in the Mac App Store to download Mountain Lion. Keep in mind that your order must be entered by August 24, 2012.
---
The Digital Story on Facebook -- discussion, outstanding images from the TDS community, and inside information. Join our celebration of great photography!
---