You can stream from iPhoto on your iPad to your HDTV via Apple TV. The trick is to reveal the hidden AirPlay button while working in iPhoto.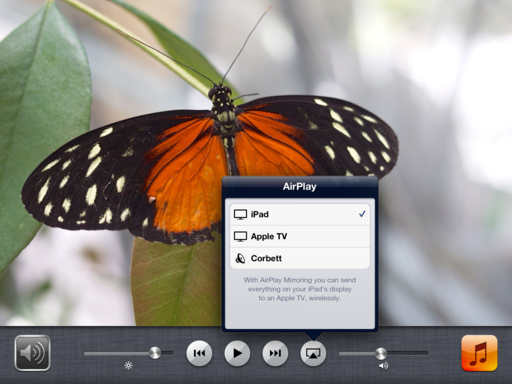 First, make sure that "mirroring" is enabled in iPhoto for iOS. You can check by going to the Albums page, clicking on the gear menu in the upper right corner, and sliding the "ON" button for "Mirror on TV."
Then double-tap the home button to reveal all the apps that are currently active in the Dock. If you swipe the dock to the right, it will reveal your media controls, as shown in the illustration above. Tap the AirPlay button, choose "Apple TV," double-tap the Home button again, and iPhoto for iOS will be mirrored on your HDTV.
Now you can share images with friends and play slideshows on your HDTV directly from iPhoto. And since Apple TV is so portable, you can easily pack it in the suitcase when traveling on vacation.
---
You can find more photo tips and "photography how tos" on my Pinterest page.
---